March 18, 2020
Saint George Faithful,

Our Parish Council met last night and discussed the current public health situation regarding the spread of the COVID-19 virus. In light of the ongoing concerns and out of an abundance of caution, we are immediately suspending all non-liturgical, in-person activities until at least April 20th. This includes but is not limited to:

Sunday School and Greek School
HDF Dance activities
Coffee Hour after church
Scheduled luncheons and Lenten meals following Presanctified Liturgies
Bible study and other educational ministries
Festival cooking activities
All organization meetings and activities (including the March 29th General Assembly meeting)
All youth activities and athletics
All church services will continue as planned in the Cathedral with the guidelines recommended by the Archbishop Elpidophoros of America and Metropolitan Alexios. Please remember to practice good "social distancing" etiquette if attending church services. Please see the attached guidelines for details
Per the directions of the protocol, please stay home if you are not feeling well. Those choosing to stay home do so without judgment or criticism. A live broadcast of selected Church services from other parishes can be found at this link: https://www.goarch.org/live-broadcasts. We are working on making our local services available online and will notify you when that is up and running.

We will continue to monitor the information and guidance from the CDC, the State of South Carolina, and our local government. Should any additional changes or restrictions become necessary to protect the health of our community we will inform you ASAP. We will continue to update you as the situation evolves as well as our postings on the church website: http://www.stgeorgegreenville.org
At this time, we have not made any decisions regarding the Greek Festival in May. We will continue to monitor the situation and decide at a later date whether to proceed or postpone the Festival to a later date.
If you have any questions or concerns on any of these matters, please contact any member of the Clergy, Parish Council or call the Cathedral office. Please note that the office will remain open for the time being, but we ask that you do not visit in person. All office visits and meetings will be conducted by phone or email only.
Finally, please share this information with friends and family members of our community who may not have access to a computer or email. A Greek translation of this letter will be made available in a few days, but it is important that we spread this message with everyone ASAP.

May God bless us and keep us safe,

Saint George Clergy and Parish Council
Father Tom Pistolis, Presiding Priest
Father Zacharias Thornbury, Priest
Father Deacon Charles Joiner
Harry Zolides, Parish Council President
John Stathakis, Vice President
John Gandis, Secretary
Stacey Shinas, Treasurer
Shane Taylor, Assistant Treasurer
Georgia Bracken
Nick Demos
Dan Johnson
John Makkas
Jim Navarro
Emmanuel Paouris
Hope Tz Schmalzl
Michael Stathakis
Gus Stathos

As advised by our Archdiocese and Metropolis of Atlanta, we offer these guidelines for the bodily and spiritual well-being of all during this time:
All services will be held in the Cathedral so that we may exercise social distancing which is strongly encouraged.
The venerating of an Icon or the Holy Gospel does not require kissing. A solemn bow is most appropriate.
Showing respect to the Priest does not require kissing his hand.
A warm Christian greeting of family and friends does not require kissing or an embrace.
The choir will be replaced by only one chanter or choir member at the Chanter Stand.
The passing of trays will be suspended; instead, offerings may be made at the conclusion of the church service as you exit.
The individual decisions of altar servers and their families will be respected regarding their service.
For these safety precautions to be effective, those attending church should immediately leave when the service is finished. For the sake of others, please do not socialize in the narthex. Sunday coffee Fellowship is suspended until further notice.
Those that are ill or in vulnerable health should remain at home.
The decision of those choosing to remain home out of concern will be respected.
For memorials, please write the names of your deceased to give to the clergy so that they can pray for the souls (without Kolyva). Kolyva will not be distributed at Church.
Parishioners in the hospital, or shut-ins will continue to be supported during this time.
Funerals will be limited to immediate family and there will be neither visitation in the evening before, nor makaria meals at Church following the service.
In the event that the sacrament of baptism cannot be postponed, this service will be limited to immediate family, with gatherings being avoided.
All church office business will be conducted over the phone or by email ONLY.
Father Tom Pistolis
---
Worship Schedule
Sundays:
Orthros (Matins): 9:00 AM
Divine Liturgy: 10:00 AM
Wed., Mar. 18 - Pre-sanctified Liturgy, 6pm (cathedral)
Fri., Mar. 20 - Salutations to the Theotokos, 7pm (cathedral)
Wed., Mar. 25 - Divine Liturgy for the Annunciation, 9:30am (cathedral)
Fri., Mar. 27 - Salutations to the Theotokos, 7pm (cathedral)
Sat., Mar. 28 - Great Vespers, 6:30pm (cathedral)
---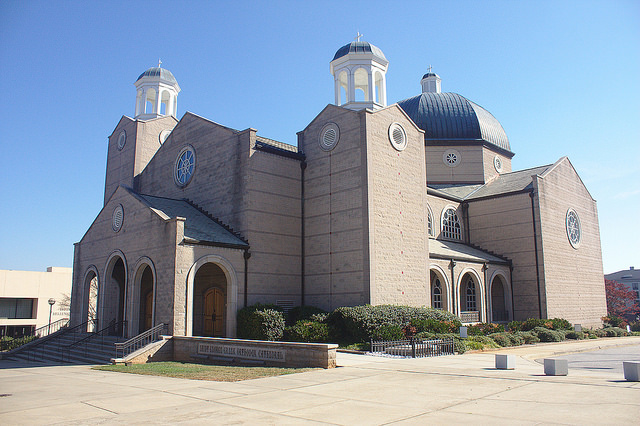 Upcoming Events
Monday Night Bible Study Online
Mar 30 6:30 pm
Presanctified Liturgy
Cathedral
Apr 1 6 pm
Akathist Hymn
Cathedral
Apr 3 7 pm
POSTPONED: District Oratorical Festival
Apr 4 12 pm
Orthros
Cathedral
Apr 5 9 am
Divine Liturgy
Cathedral
Apr 5 10 am
3 Yr Memorial: George Giannopoulos
Apr 5 12 pm
Please be sure to check the full calendar for more upcoming events!